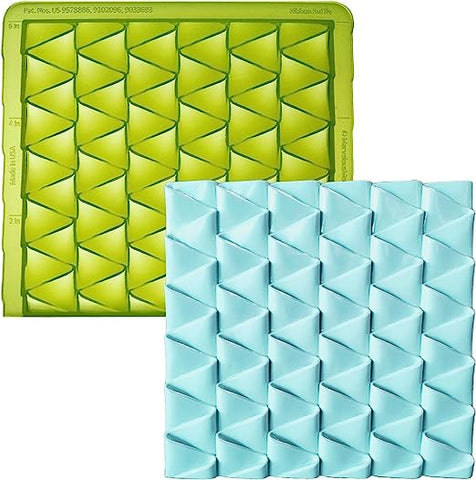 Marvelous Molds Ribbon Ruffle Simpress
About this item
Creates easy-to-apply cake decorations with a ribbon ruffle texture for professional cake decorators, hobbyists and novices alike. Also used to create striking cupcake toppers and cookie decorations.

Larger size for both regular and taller cakes. Interlocking panels match end to end and will seamlessly cover the sides of your cake in minutes. Complete instructions provided.

Patented, self trimming silicone mold design produces decorative panels in fondant that can be applied to a crumb coated or buttercream iced cake.

Made in the U.S.A. with food grade, high quality silicone. Ideal for use with edible materials like: chocolate, sugarpaste, butter, ganash, flower paste, candy, Isomalt, modeling paste, marzipan. Unsurpassed for non-edible materials too: clays, wax, plaster, resins, soap, epoxy & more.

Measures 6.28 x 6 inches, dishwasher safe, BPA free.
---
We Also Recommend
---